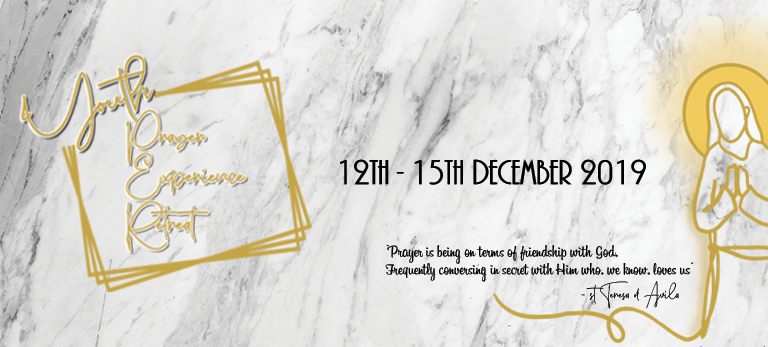 Date
12 Dec 2019 (Thu)
- 15 Dec 2019 (Sun)
Time
7:45pm - 6:45pm
Fees
$90
Youth Prayer Experience Retreat
Are you hungry for a deeper, more intimate relationship with God?
Have you been desirous to hear God's voice more tangibly in your life?
The CSC Youth & Young Adults (YAYA) will be having our first ever Youth Prayer Experience Retreat (YPER) this December! Based on the Prayer Experience Retreat (PER) organized by CSC, the program of YPER has been tailored for youth and young adults to connect and experience God through prayer and rediscover His authentic, unwavering love, and grow deeper in relationship with Him.
If you are aged 18 to 29 years of age, we invite you to come for the retreat, from 12 to 15 December, and may you once again find the gift of God's love in your life this Christmas season.
Registration for YPER #1
Registration for YPER is now open!
Registration Link: https://forms.gle/vyU72ptE2Wi3NqQs9
Period of registration is from 1 November to 5 December, or when all spaces are filled.
Retreatants should be:
Aged 18 to 29 years of age.
Singaporean and Catholic
Have attended YCER, CER, PER or AWAKEN
Retreat fees are $90.00. Payment instructions can be found here.
You will receive a confirmation email from us 15 days from the date of payment. If you did not receive the email, please first confirm that the email did not arrive in your Spam/Junk folder before contacting us at 6288 7901 or retreats.csc@catholic.org.sg.